The Complete
Scaffold Management System

For only $1 per each new scaffold you can...


Go Paperless
Automate your Scaffolding Processes
Get Limitless Handovers, Instructions, Inspections, Requests, Certificates, and Inventory Management
Reduce your Carbon Footprint
And Save Money. Learn How
One Account, Unlimited Users &
No Contracts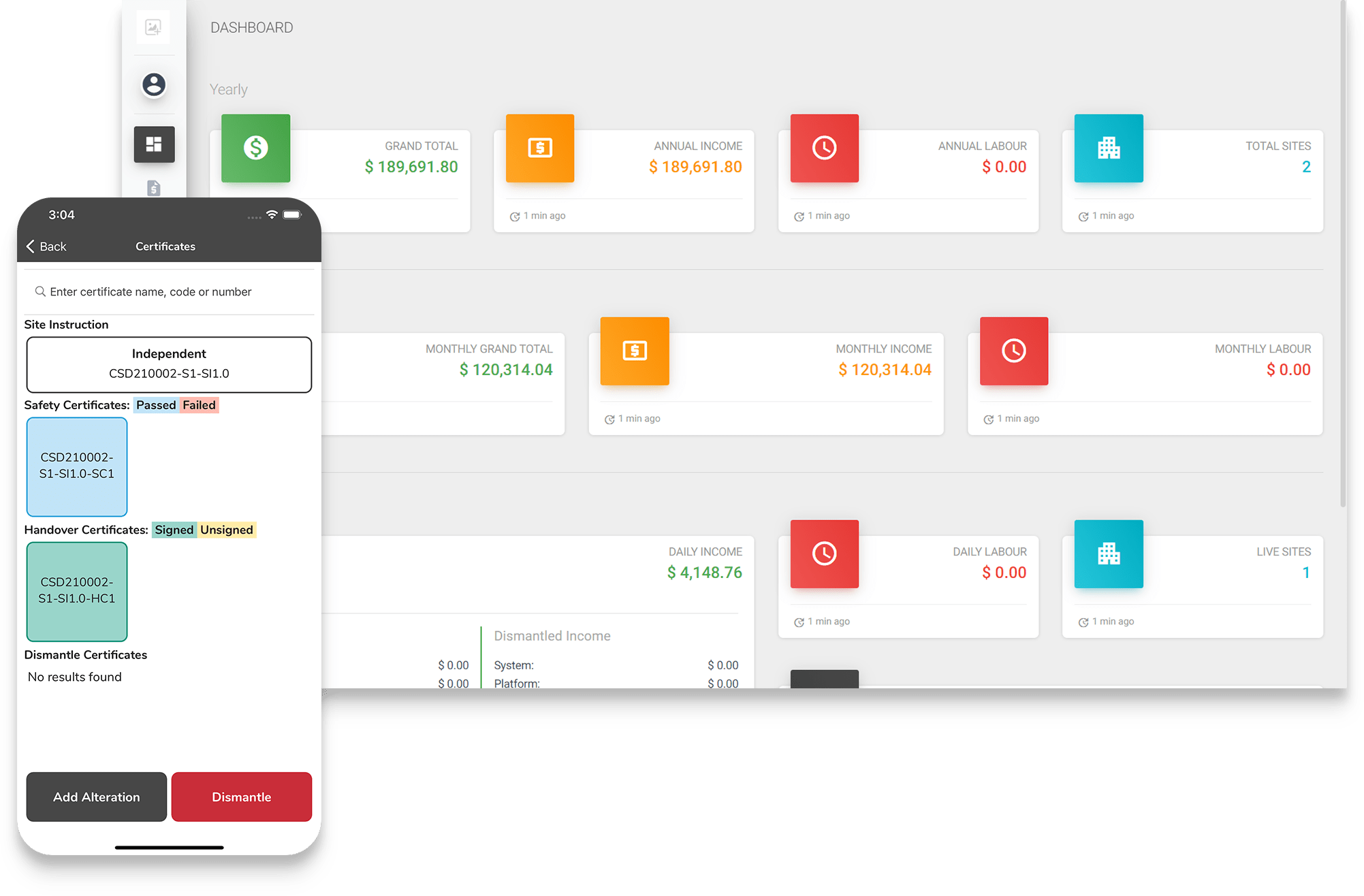 What is Cloudscaff?
The future of scaffold management
We believe in transforming the scaffolding industry into a digital and automated environment, cutting down paperwork, not trees. We are driven towards innovating and growing your scaffolding business, optimizing your workflows, automating your processes, digitizing your documents, increasing your productivity and saving your money.
Scaffolding Ecosystem
Six management systems in one
Scaffold Management
Scope
Schedule
Estimates
Project Forecasting
KPI's
Request Management
Request Activity based on Estimate
Request Visability
Requet Design
Transaction History
KPI's
Task Management
Schedule Projects
Schedule Scaffolds
Schedule Teams
Schedule Individuals
Schedule Inventory
Tag Management
Based on Approved RQST's
Tag Activity
Tag Status
Tag Visibility
Transaction History
Work Packaging
KPI's
Manpower Management
Based on Approved Tags and Work Packages
Manpower Activity
Crew Execution by Tag
Project Forecasting
Crew Execution History
Rate Profiles
KPI's
Inventory Management
Based on Estimate
Inventory Activity
Inventory Visibility
Transaction History
Work Packaging
Yard Setup
KPI's
Real-Time Data from Project Sites
Understand every aspect of your business
The Cloudscaff App allows you to generate digital documents on site.
These documents get processed in the cloud.
They are then automatically numbered, stored and accessed on the Cloudscaff Dashboard.
Our CRM system automatically sends them to all respective parties.
Safety and efficiency are at the core of Cloudscaff. Generating live data from site will allow you to track and manage safety, identify backlogs, errors, and issues before they become a problem for your business.
A technology-first approach to scaffolding
Optimize your scaffolding business
Grow your profit margins
Cloudscaff's powerful tools focus on planning and process controls to ensure all scaffold resources are deployed in the most effective manner to maximize productivity and utilization.


Why Cloudscaff?
Key benefits
Increase Efficiency
You can completely remove data capturing, processing, and human error from your company. Also monitor scaffolding resources, ensuring they are used efficiently to maximize your productivity and utilization.
Integration
You have the option to integrate the entire scaffold management system or individual scaffold management tools.
Project Management
We provide you with real-time insight from building sites to gain a better understanding of what's happening on each project.
KPI's
Analyze your business in with real-time data sent instantly from building sites.
---
It's scaffolding, but smarter
Utilize the fastest growing scaffold management software in the world.
Cloudscaff provides flexible integration options for every business need.


---